Aseptic Transfer System using UV-C Light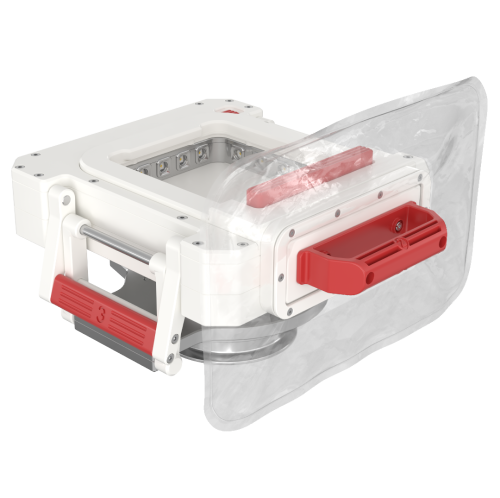 In researching and developing the Ezi-Flow UVC Aseptic Transfer system we consulted widely with existing Pharma and Bio-Pharma customers whose levels of satisfaction with existing aseptic transfer processes were very low. Wiping is simply not reliably effective and gassing with peroxide vapour is costly, unsafe and wasteful. Our simpler, neater and radically more cost-effective solution also requires very little training.
The Ezi-Flow UV-C System provides:
•    Speed: Sterilise to Log 6 in less than 1 minute
•    Low Cost: System requires fewer services and less manpower
•    Safety: Replaces messy VHP with proven UV-C technology
•    Simplicity: Logical process requires minimal training
•    Performance: Full bore Aseptic Transfer with no product hang-up
Why Choose Ezi-Flow UV-C?
VHP-based aseptic product transfer systems have always been time-consuming and overly complex, requiring the provision of several services at the point of use. Our approach to the contained transfer of APIs has always been to reduce complexity and cost whilst improving performance. We first took this approach with our Ezi-Flow CSV system, and this is now used all around the world.
Now we have been able to adapt our existing, well-proven high containment transfer system to deliver aseptic transfer using UV-C light rather than vaporised hydrogen peroxide. The result is a genuine game-changer for this process, providing a safer and more simple 'plug and play' solution that provides a massive upgrade in performance whilst using less time and fewer resources at a significantly lower cost. If you have access to an electric socket, the Ezi-Flow UV-C system can be deployed immediately!
Ezi-Dock designs products that are simple to use as well as being highly effective. Based on direct user feedback, Ezi-Dock products are lower in cost, but can still out-perform existing technologies, adding genuine, measurable value to our customers' day to day operations.
The Ezi-Flow CSV provides a complete, unique and World-Class High-Containment solution for:
•    Reactor Charging
•    Extruder Charging
•    Powder Filling Lines
•    Tablet Press Charging
•    Tablet Coater Charging
•    Blenders/Mixers
•    Filter Dryers
•    Tablet Packing Lines
Ezi-Dock Systems works with customers throughout the world, covering a wide range of manufacturing processes across several sectors. We can supply standard products such as:
Chargebags
Pharma Process Bottles
Hicoflex-style adapter
Passive Valves
Ezi-Strap Bag Closures
Bag Clips
Connector Chutes
Blanking Caps
Gaskets
Tri-Clamp Adapters


Ezi-Dock Systems is also highly experienced in developing and modifying solutions for particular production scenarios which have non-standard requirements. Please contact us to discuss improvements to your transfer process.
Ezi-Flow UV-C Process Animation
Ground-Breaking Technology for UV-C Aseptic Transfer