High Quality 2-Ply, Single Use Pharma Chargebags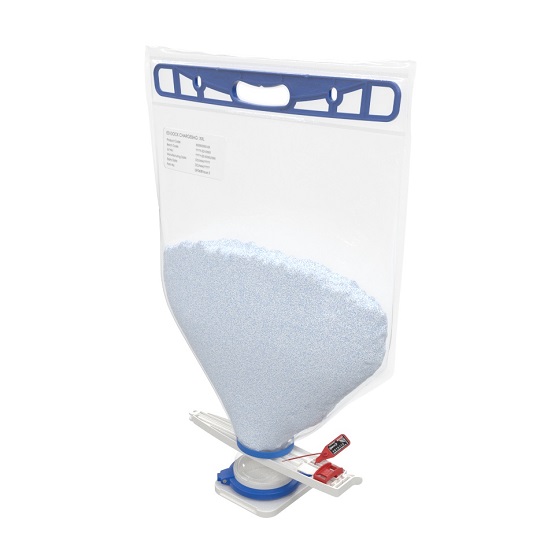 Ezi-Dock™ manufactures a range of specialised process packaging for the Pharmaceutical and Biopharmaceutical industries including both rigid and flexible / disposable options.
The market for disposable, flexible containment process solutions has grown significantly over recent years. Ezi-Dock's Single-Use Pharma Chargebags provide the ultimate in convenience and cost-effectiveness and their double wall construction reduces the risk of pinholing and adds useful strength when dealing with heavy passive connectors.
Manufactured from a + Compliant LDPE with a permanent non migrating Anti-Static additive, and available in 2, 5, 10, 15, 25 and 40 litre sizes with a choice of 2, 4 or 6 inch tri-clamp connectors.
Non-standard sizes available on request.
Why Choose Ezi-Flow Pharma Chargebags?
Some users of traditional rigid process containers have found them to be expensive to clean and manage, and potentially inefficient when discharging their contents. The high performance of the patented Ezi-Dock docking ring system has helped to reinvent this specialised market, however, and  our Single-Use Pharma Chargebag now provides a flexible and highly effective alternative, offering significant cost and performance benefits over blow or rota-moulded rigid bottles.
<USP87> + <USP661> Compliant LDPE with Permanent Anti-Static Additive
2 Ply Body Construction
2/4/6/inch Tri-Clamp Ferrule – BS4825-3
Individual Bag Label Showing Batch and Bag Number
Available Gamma Sterilised
Lower Transport & Storage Costs
HDPE Blanking Caps available
Handling Aids available
Comprehensive Range of Gaskets and Clamps available
Individually Sleeved and Packed 25 per Carton
Ezi-Dock Systems works with customers throughout the world, covering a wide range of manufacturing processes across several sectors. We can supply standard products such as:
Pharma Process Bottles
Hicoflex-style adapter
Passive Valves
Ezi-Strap Bag Closures
Bag Clips
Connector Chutes
Blanking Caps
Gaskets
Tri-Clamp Adapters
Ezi-Dock Systems is also highly experienced in developing and modifying solutions for particular production scenarios which have non-standard requirements. Please contact us to discuss improvements to your transfer process.
Ezi-Flow Chargebag Discharging Video
The Ezi-Dock Chargebag is a High-Performance Flexible Process Package designed to deliver maximum product recovery when handling Pharmaceutical and Chemical Products.