HDPE Pharma Process Bottles
The Cheapest and most Efficient available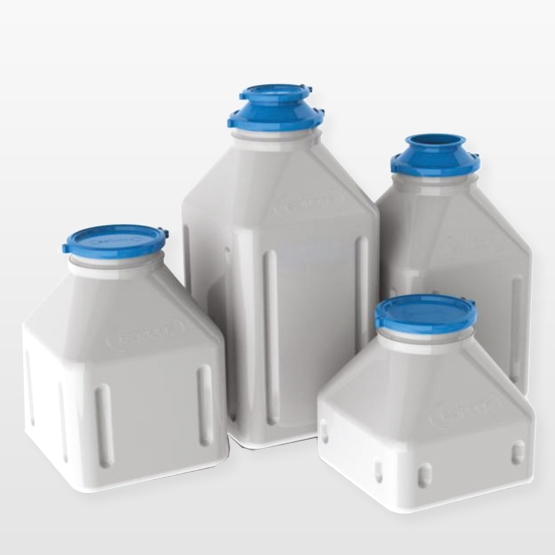 Pharmaceutical and Biopharmaceutical industry users who prefer to use traditional bottles and rigid process packaging will be impressed by the improvements which have been incorporated into the New Ezi-Dock™ Pharma Process Bottle Range, which make it the cheapest and most efficient available.
Ezi-Dock™ Pharma Process Bottles are manufactured from USP Class VI approved HDPE (with an FDA approved anti-static additive) and our design has been optimised for transport, the unique SQUARE design producing a valuable space saving of between 40-45%.
Ezi-Dock™ Pharma Process Bottles feature a standard 6 inch Tri-Clamp neck design that will then adapt (using an injection moulded adaptor) to pharma-industry standard sanitary 4 inch Tri-Clamps (BS4825-3).
Ezi-Dock Pharma Process Bottles are available in 4 sizes:
• 15 Litre – (30x30x29cm) – 84 Bottles per Pallet
• 25 Litre – (30x30x40cm) – 60 Bottles per Pallet
• 30 Litre – (30x30x47cm) – 48 Bottles per Pallet
• 40 Litre – (30x30x58cm) – 36 Bottles per Pallet
Why Choose Ezi-Dock Pharma Process Bottles?
Specifically designed for the storage and transfer of API powders and granules, Ezi-Dock Pharma Process Bottles are lightweight, easy to handle and highly stable. Due to its compact square design they are also space efficient, saving on both storage and logistics costs.
Available in 4 standard sizes with a 6 inchTri-Clamp flange (BS4825-3), they can also be supplied with a low-cost 4 inch injection moulded adaptor.
Manufactured from a Pharma Grade HDPEand Blow Moulded with an USP Compliant Permanent Non-Migrating Anti-Static Additive.
Each bottle is packed in an individual carton with a hygienic inner PE liner.
Ezi-Dock Systems works with customers throughout the world, and can quickly supply standard products such as:
HDPE Blanking Caps
Lifting Clamps
Comprehensive Range of Gaskets and Clamps
Our team is also highly experienced in developing and modifying solutions for particular production scenarios which have non-standard requirements. Please contact us to discuss improvements to your transfer process.
The Pharma Process Bottle is a unique and innovative addition to the Ezi-Dock Pharma Packaging range of products