Conductive Grid Film Chargebags​
Ezi-Flow Conductive Grid Film Chargebags
Conductive Single-Use Chargebags for use in combustive dust environments.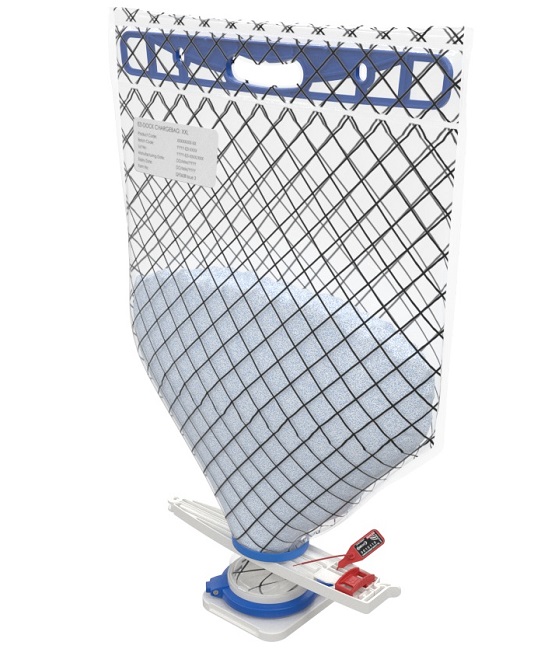 Ezi-Dock™ manufactures a range of specialised process packaging for the Pharmaceutical and Biopharmaceutical industries including both rigid and flexible / disposable options.
The market for disposable, flexible containment process solutions has grown significantly over recent years, and Ezi-Dock's FDA / EU Compliant Single-Use CSV4 Pharma Chargebags provide the ultimate in convenience and cost-effectiveness and their double wall construction reduces the risk of pinholing and adds useful strength when dealing with heavy passive connectors.
These Conductive Film Chargebags are the ideal choice for environments in which combustive dust presents a safety risk. Manufactured from a + Compliant LDPE and are available in a wide range of standard sizes. Non-standard sizes are available on request.
Optional Liquid Addition Ports and HEPA P3 Vent Filters can added to the Ezi-Flow CSV4 Chargebag at an additional cost.
Each unit is packed in an individual pouch containing Chargebag, Security Tie, Ezi-Dock Single-Use Clamp and Protective Correx Sheet.
Materials
2 Ply, 100 micron LDPE Buscherhoff PE Conductive Grid Film
Key Features
2-Ply design adds strength and resists Pin-Holing
2-Ply design adds strength and resists Pin-Holing
Individual Bag Label showing Batch, Bag Number and Expiry Date
Min - Max Operating Temperature: 5°C - 70°C (41°F - 158°F)
Certification
Tri-Clamp Ferrule - BS4825-3
| Size | Part Number | Comments |
| --- | --- | --- |
| 2.5 Litre | CBAG04025PAS4-CGF | |
| 5 Litre | CBAG0405PAS4-CGF | |
| 10 Litre | CBAG0410PAS4-CGF | |
| 15 Litre | CBAG0415PAS4-CGF | |
| 20 Litre | CBAG0420PAS4-CGF | |
| 25 Litre | CBAG0425PAS4-CGF | |
| 30 Litre | CBAG0430PAS4-CGF | |
| 40 Litre | CBAG0440PAS4-CGF | |
| 50 Litre | CBAG0450PAS4-CGF | |
| Optional Liquid Addition Port | CBAG04025PAS4LC-CGF (example) | Add 'LC' to Part Number of chosen size |
| Optional HEPA P3 Vent Filter | VBAG04025PAS4-CGF (example) | Change 'C' to 'V' on Part Number of chosen size |